97.3 KAML-FM Today's Hit Music is Gillette's very own Adult Top 40 radio station! Unlike Hot AC stations, we air some Hip Hop and R&B music that is typical on Top 40 stations without all that RAP. Core artists include: Nickelback, Kelly Clarkson, Matchbox 20/Rob Thomas, John Mayer, Pink and Lady Gaga.
Keep Up With Us on Facebook!
Click Here https://www.facebook.com/97KAMLFM/
---

A woman Uber driver unknowingly picked up her boyfriends side piece and figures it out as she drives up to his apartment and he walks out. The woman tweeted the entire ordeal, and now it's gone viral.

The onslaught of Blac Chyna drama with the Kardashian/Jenner family continues. Chyna calls out Kylie Jenner's boyfriend for not paying child support in a Snapchat story. Blac Chyna Calls Out Tyga for Not Paying Child Support Via

Kris Jenner has reportedly dumped long time boyfriend Corey Gamble. They were last photographed around Valentine's Day, but seemingly broke up soon after due to Kris not being able to focus on her career and her family.
Schedule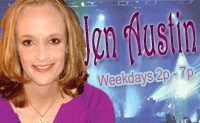 Jen Austin weekdays 2a-7p
Jen is a sports fan and fitness enthusiast, and she liked to cook until three kids started sucking the time away.  Now instead of spending hours making crab cakes and bacon-wrapped shrimp and enjoying culinary creations over a leisurely glass of wine, she microwaves mac and cheese and washes baby bottles while the kids are eating.
Finley is 4, Kallan is almost 3, and Piper was born in the fall of 2011.  As a parent of three girls, Jen finds herself saying things she never thought she'd say like, "Please take that syrupy fork out of your hair," and "Shoes are not for licking."  Mostly, she just tries to keep them all from pulling hair and biting each other.  There's never a dull moment.
Jen is a big Katy Perry and Lady Gaga fan, and she loves following local sports teams like the Rough Riders and Camels. 
_______________________________________________________________________________________________________________________________________________________________________________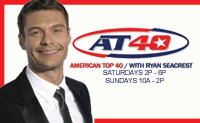 America's Top 40 with Ryan Seacrest  Sat. 2-6p Sundays  10-2
Requests & Shoutouts call 1 877 AT40 FAN
Ryan Seacrest: With his thriving broadcasting career and multiple ventures in media Ryan Seacrest is at the forefront of entertainment media. While hosting and producing multiple television and radio programs, building his Ryan Seacrest Productions banner (RSP) into a viable entity creating content for all media platforms and a myriad of brand ventures, Seacrest is redefining what it means to be an entrepreneur and a quadruple threat in Hollywood.
Seacrest was honored when he was nominated for an Emmy award in the "Outstanding Host for a Reality or Reality-Competition Program" category for his work on "American Idol" in 2008 and 2009. Seacrest was also added to the list of greats who have hosted the prestigious Emmy awards in both 2007 and 2008. Seacrest now holds preeminent positions in the worlds of broadcast television, nationally syndicated radio, local radio and cable. He is already celebrated internationally as host of the top-rated primetime talent showcase "American Idol" and the world's most popular radio countdown show, "American Top 40," as well as his market-topping #1 nationally syndicated LA morning drive-time radio show for Clear Channel's 102.7 KIIS-FM. Additionally, Seacrest executive produces and co-hosts "Dick Clark's New Year's Rockin' Eve with Ryan Seacrest," which, has spiked networks ratings and consistently won the night for viewership since his involvement with the show.