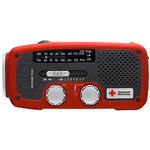 American Red Cross Microlink Radio
• Value $35-Today $21
• Eton has teamed up with the American Red Cross and developed a Safety preparedness Radio also with a USB Cell phone Charger – The Red Cross Micro link FR160 is small enough to put in your glove box or purse. It is Solar and Crank Powered has weather radio with a flashlight and available in Red.
ETON- FR500 Radio
• Value $80-Today $48
• Eton FR500 Solar link is a Self and Solar-Powered AM/FM Shortwave Radio with NOAA Weather bank, Flashlight, Siren and Cell Phone Charger – This radio comes equipped with a flashing Beacon for easy emergency location. Its heavy duty and a must have for anyone traveling in the Wyoming winters.
Eton- FRX1 Radio
Value $30-Today $18
Be prepared for anything with the award winning FRX1 hand-powered, rechargeable weather radio from ETON. This little allpurposeam/fm radio will keep you charged up and in the know – use it for everyday or in case of an emergency.Its LED flashlight is handy at home the office or in the car and with its glow in the dark locator it will always be easy to find.
5 available

Eton- Axis Red Cross Emergency Radio
Value $70- Today $42
This smartphone charging digital weather alert radio has an LEDflashlightand emergency beacon.The rugged compact design comes in Red or Blackand is moisture resistant makingit perfectfor indoors or out. Crank the hand turbine for one minute and you will produce enough power for 20 minutes of radio time or a 30 second phone call.It can also run on batteries and has a jack to plug in your headphones.These radio's make greatgifts- be the first to pick up the Axis Radio from Eton.
10 available- no limit
Grundig Mini 400 Radio
• Value $30-Today $18
• Super Compact AM/FM/ shortwave Travel Radio with Digital Display that shows time and has an alarm function . Comes with earphones and a black carrying case.
Grundig Traveler Radio
• Value $60-Today $36
• AM/FM/LW Shortwave Radio has Auto Tuning Storage, sleep timer and alarm clock with digital tuning and LCD readout – A flip down screen enables you to set time to your favorite traveling location London, New York , Denver, Tokyo or Alaska wherever you are you will be on time with this little unit. Comes with Black Traveling Case and headphones.


Steve's Store FAQ
What is Steve's Store?
As a consumer it's your chance to buy products and services from local and surrounding area businesses at a minimum of 40% off! We have had everything from chicken eggs to white water rafting trips.. the possibilities of available merchandise are endless!
How does it work?
Each Friday morning from 9am-10am, show hosts Don and Jessica will tell you all there is available! Listen close for special discounts throughout the show, not available online!
When you hear something you like, call 682-1270 and tell the operator which item you would like to purchase
What form(s) of payment do you accept?
We accept cash, check and credit card.
If paying with a credit or debit card, we do require a photo ID.
Once I commit to purchasing an item.. then what?
You have 30 days to come to the Basin Radio Network offices and pay for your purchase. After 30 days, the item will go back into inventory.
We are open Monday thru Friday 8am-5pm.
Once the certificate is paid for, it is your responsibility to redeem it before its expiration date.
Basin Radio is not responsible for, and will not replace expired certificates.
Can I make Steve's Store purchases during the week?
Yes! View MOST of the inventory right here on our website! If you see an item you would like to buy you may call 686-2242 and ask if the item is still available. OR you can come to our offices at 2810 Southern Drive and view the complete list of what is available.
I own a business- how do I get my product or service on Steve's Store
Contact your Basin Radio Network account Executive or Director of Sales, Jessica Klym at 307-686-2242 for more information