Featuring Classic Country to include core artists such as Willie Nelson, Johnny Cash, Dolly Parton and much more playing hits from 1989 and back!
---
Schedule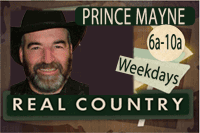 Prince Mayne 6a-10a Weekdays
Prince Mayne is with you Mon-Fri from 6am to 10am playing what YOU want to hear! Prince enjoys horses, camping, computers, trail riding and the challenge of golf! (When he's not enjoying his true love, entertaining you on the radio)! Check out the Legend on 93.3 KLED! It's Prince Mayne for Fun, your Favorite Country Music and the Information You Need!
Erik B 2p-6p Weekdays
Erik is originally from Ohio, and moved to Wyoming in 1990 to be closer to family. In 1993, Erik began working for KGWY Fox Radio as a morning show announcer and Operations Manager for the company. In 2001, he left Basin Radio to pursue other ventures. Erik has remained involved in the community participating in such activities as emceeing local events.
Country News

Rodney Atkins and his wife, Rose Falcon, have announced the birth of their baby boy, Ryder Falcon Atkins, born on Thursday, December 14. Atkins and Falcon revealed news of Falcon's pregnancy on the Fourth of July, via