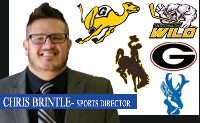 Title: Sports Director
Email: sports@basinsradio.com
Phone: 307.685.5380
From a young age sports has been a major part of my life. I grew up in Kansas City, never missing Chiefs and Royals games. During those games I would pretend to be the broadcaster and call the action. Little did I know I was practicing for a possible career.
I received a Sports Media degree from Oklahoma State University. While attending school I began my broadcasting career in Stillwater, Oklahoma. I called play-by-play for high school sports around the area and Oklahoma State softball games for the team's website.
It was love at first sight from the first time I arrived in Gillette. I can not wait to meet more people within the community and build relationships that last for a long time. One thing is for sure…..Chris Ledoux wasn't lying so I am proud to be singing the Song Of Wyoming!