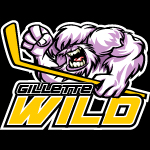 GILLETTE, Wyo– Gillette Wild hockey player Trent Dillinger was promoted over the weekend to the next level up in tier 2 of the North American Hockey League.
Dillinger will play down in Texas for the Amarillo Bulls. Trent was the second leading scorer for Gillette with 10 goals and 9 assists. The Wild is (12-5) and sit second in the division 6 points behind Great Falls.
The Wild have three games this Thursday through Saturday. Gillette plays Bozeman on Thursday and Friday night at 7:05 and Billings on Saturday night at 7:05.