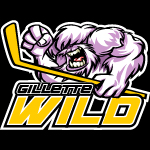 The Gillette Wild hockey team picked up a win Thursday over Billings 3-1, in Spirit Hall Arena. The (30-12) Wild outshot Billings 32-27 and held Billings scoreless in the first and third periods.
Billings was 0 for 7 in power plays, while Gillette was 1 for 2. Mitchell McEwan, Brandon Beard, and Darren Banks all scored goals in the win. With the victory th Wild moved into second place in the division standings, moving them ever so closer to getting home ice for the playoffs.
The Wild are a point ahead of 3rd place Helena and 4 points behind 1st place Great Falls. Next up for Gillette is a game at (9-29) Yellowstone Friday Feburary 20th, at 7:30 p.m.