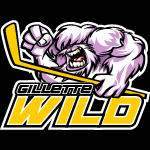 GILLETTE, Wyo.-Gillette Wild forward T.J. McMinn has commited to Williston State College. McMinn just completed his third season with the Wild, scoring 48 points in his 99 in Gillette.
Gillette head coach Tom Winkler is exited for McMinn's opportunity. "This is a great fit for TJ and we are excited that he will has chosen to play at Williston," Winkler said.
Williston State head coach, John Bowkus, also thinks T. J. will be a nice fit into his program. "Williston State College is excited to have TJ McMinn play next season with the Teton Hockey Team. Bowkus said. "TJ is a big powerful winger that we expect to make an impact right away."
McMinn finished past year with 16 goals and 8 assists. The Wild fell short to Helena in a round 1 playoff series.