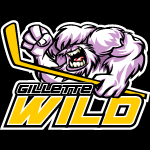 GILLETTE, Wyo.–Former Gillette Wild hockey player Darren Banks has commited to play for Finlandia University in Hancock Michigan. At the power forward position, Banks scored 8 goals and 18 assists in 33 games played this past season. Wild head coach Tom Winkler is excited about Banks' opportunity.
"Darren has earned this opportunity at Finlandia, Winkler said. He will bring a physical presenceand a passion for the game every night. His compete level is second to none. We areexcited for Darren and this opportunity with Coach (Dane) Litke."
According to Coach Litke, "Finlandia is excited about the recent commitment from Darren Banks. He has good size and brings a great work ethic to the rink everyday. He will be a welcome addition to the Lions locker room. Darren has some intangibles that were lacking from our team last season and we are happy that he chose to play hockey at Finlandia."Finlandia is a Division 3 hockey team.