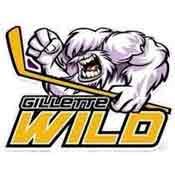 PRESS RELEASE–Coach Brendon Hodge has been busy this off-season securing important members from last years team as well as adding new faces through the NA3HL draft. Coach Hodge is pleased to announce that two more important veterans from the 2014-2015 season have committed for the 2015-2016 season.
Goalie Alex Feese returns after a successful year with the Wild in 2014-2015. Feese appeared in 31 games for the Wild logging over 1700 minutes and posted a 20-10-3 record. Returning Feese keeps a familiar, consistent face in goal for the Wild as they look to press deeper into the playoffs this year. Also signing is defenseman Brett Kramer. Kramer worked the blueline in 34 games for the Wild last season and had 8 points and a +3 rating.
The Wild are looking forward to their 5th Anniversity Season as well as their first season under Coach Hodge. Be sure to check the site for information on season tickets and we look forward to seeing you at the rink!