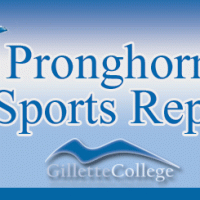 GILLETTE, Wyo.– The (5) Pronghorn men had no problem with focusing on Little Big Horn College Wednesday night eventhough they knew they have a much bigger game Saturday against Casper College. The Pronghorns, who moved up to 5th in the national rankings, defeated Little Big Horn College, 131-85, from the South Campus.
Head Coach Shawn Neary for the Pronghorns wanted to focus on defense against the winless Rams. The Pronghorns were pretty impressive defensively on the boards, getting 41 defensive rbounds in the game.
Kavell Bibgy-Williams led Gillette College with 26 points and 14 rebounds with five other Pronghorns scoring 16 or more points.
Hafeez Abdul of Little Big Horn College led all players with 36 points on the night.
With the win for the Pronghorn men, it sets up a battle for the number 1 seed from the North Subregion of the Region IX going into the Region IX tournament against Casper College. The Pronghorns lone loss on the year was against Casper College on February 3rd, in Casper. The final for that game was 94-89.
Casper College's lone loss in the North Subregion was at Western Wyoming Community college, by a score of 57-56. Casper College did lose to Sheridan College this year, but due to Sheridan College being banned from postseason play, games against them don't bear any weight when it comes to seeding this season.
Fans are encouraged to pack the South Campus to support the Pronghorns for the 7:30pm game time. The game can also be heard on 93.3 The Legend and online at https://www.network1sports.com/station/kled.