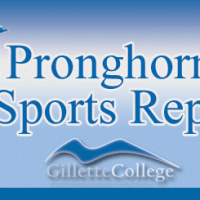 GILLETTE, Wyo,– The Gillette College Pronghorn women kept Little Big Horn College from scoring until there was 4:45 left to go in the first quarter. It was that kind of night for both squads as the Pronghorns advance to the quarterfinal round of the Region IX tournament with a 102-45 victory.
Five Pronghorns had 12 or more points the game, with as many players sinking at least one triple. Nakedra Burke was five of seven outside the arc in the game. Mary Goulding led Gillette College with 20 points and 12 rebounds.
The Pronghorn women wait to see who they will play Thursday night at 7:00pm. It will be the winner of the fifth seed from the North Subregion, Western Wyoming Community College vs. Eastern Wyoming College, the fourth seed from the South Subregion. That game takes place at 7:00pm on Wednesday night from the South Campus.
The Pronghorn women's game on Thursday night at 7:00pm can be heard on 93.3 The Legend and online at https://www.network1sports.com/station/kled.