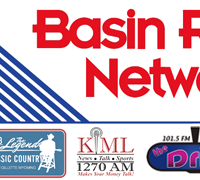 Release – The National Weather Service has slightly upped the snowfall prediction for the northern half of Campbell County and now included Crook County in that total. Monday afternoon they were expecting 1-2 inches in our area, now saying 2-3 inches…combined with northerly winds of 40 mph which will cause blowing and drifting and visibility issues. The Wright area had been expecting 2-4 inches yesterday, they are now saying 2-3 inches also, with northerly winds of 35 mph.
All of this is to run from 9 p.m. tonight through noon Wednesday, which is the timing for the Winter Weather Advisory they have issued.
Look for rain possible today, and this evening the rain will change to snow. The moisture is there…it's just the timing of that changeover (when the cold air moves in at lower levels) will determine the snow amounts we will have so the snow amounts can still fluctuate.
The storm had originally been expected to primarily impact the southern Black Hills and Weston County…that track has shifted a bit to the north. The worst impact is expected to be the Lead/Deadwood area with 4-8 inches…most other parts of the hills will be about 4 inches and the lower elevations east and west of the black hills are expecting 2-3 inches total. The biggest issue for the entire region will be the 35-40 mph gusty winds.
Remember, February-April is the period when we get the heaviest snowfall…so we still have a month to go within that period.
David King
Coordinator
Campbell County EMA