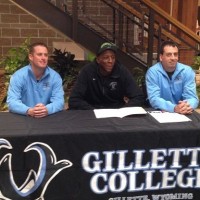 GILLETTE, Wyo.–Kavell Bigby-Williams had a memorable Wednesday for a couple reasons. He officially signed his letter of intent to play for the University of Oregon in the late morning and by the afternoon he was named the NJCAA D-I Spalding Player of the Year.
Bigby-Williams finished the year with 16.8 points, 13.6 rebounds, and 5.6 blocks a game. He led the NJCAA D-I with total rebounds. defensive rebounds and blocks on the season
Kavell will be joining last year's Spalding Player of the Year, Chris Boucher, at the University of Oregon. Boucher played for Northwest College in the 2014-15 season and was on the Trapper squad that defeated the Pronghorns in the Region IX Championship game from Powell. Bigby-Williams was a freshman for the Pronghorns that year.
Kavell received attention from the University of Texas and San Diego State, in addition to other programs, however Bigby-Williams felt Oregon's style of play was the best fit for him.
Bigby-Williams is the third Pronghorn in two years to join a PAC-12 program. Lorenzo Bonham went to the University of Utah and Renard Suggs to Washington State after last season.
As for being named the NJCAA D-I Spalding Player of the Year, he is the first Pronghorn to be named with that title and only the second in history from a Region IX school- the other being Boucher from last year.