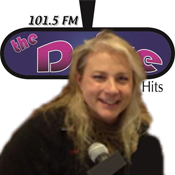 Title: On Air / KDDV
Email: kym@basinsradio.com
Phone: 307.685.5445
Thanks for checking out my bio page!  I was born and raised on the east coast outside of our nations capital.  My parents were military so I've lived all over the world.  I'm married with one pretty talented son who is off to college in the fall.  We have a cat named Buddy who I love like air and if you were to look in photo gallery on my iPhone, you'd probably find in the area of 6,281 pictures of him…usually sleeping.  I'm obsessed.  My husband and I are avid lovers of the space program and aviation.  We've met several astronauts and even 3 moon walkers and spend a lot of time speaking in acronyms around our house.
My favorite things to do are travel, go to concerts, play with Buddy, binge watch shows on Netflix, eat, play with Buddy, exercise my 2nd amendment rights with copious amounts of range time, nap, go to movies on opening weekend, and play with Buddy.
I'm a diehard hockey fan and also enjoy college & pro football. My favorite shows are Game of Thrones, Better Call Saul, and the Walking Dead.
Looking forward to spending the ride home with you each weekday afternoon!