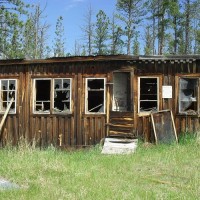 Press Release – The Black Hills Historic Preservation Trust is offering a $1,000 reward for information leading to the arrest and conviction of the person (s) responsible for the recent vandalism to the historic Meeker Ranch, located northeast of Custer, SD on the Black Hills National Forest.

Numerous windows were broken and damage was done to an exterior door from forced entry. Estimated damage to the property is $4,275 not including labor costs.

The Meeker Ranch is the last standing historic homestead on public land in the southern Black Hills.

Over the past 7 years, the Forest Service along with several partners including the Black Hills Historic Preservation Trust, Region 1 Historic Preservation Team from Missoula, Montana, and HistoriCorps from Colorado have been working to restore the historic property.

Anyone with information is asked to contact Forest Service Law Enforcement Officer Eric Nelson at (605) 673-9307 or by email at elnelson@fs.fed.us. The public can also contact the Custer County Sheriff's Office at (605) 673-8166 with information.

For more information on the Black Hills National Forest, visit, http://www.fs.usda.gov/blackhills or call (605) 673-9200.