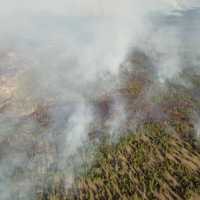 The Maple fire inside Yellowstone National Park grew by 6,233 acres on Monday to a total of 22,448 acres. The Maple fire in the Tatanka Complex was detected Monday evening, August 8 by a smokejumper aircraft passing over the park. It is located in a large expanse of the 1988 North Fork fire scar, four miles east of the Park's west boundary, and five miles northeast of the community of West Yellowstone.
The Maple fire remains 4 miles east of the Park's west boundary, and 5 miles northeast of the community of West Yellowstone and 2.8 miles from Madison Junction. It continues to back down the slope near the 7-mile bridge and is one-tenth of a mile from the roadway. It has not crossed the West Entrance road, and firefighters do not anticipate it crossing the road. Contingency plans have been developed, should the fire move westward towards West Yellowstone, and firefighters plan on holding it to the east of the Madison River.
The West Entrance road remains open. Should smoke or fire activity increase; pilot cars may be implemented to safely escort vehicles through the area.
The current closures are:
Campsites: WA1
Trails: The entire Gneiss Creek trail is closed from the Gneiss Creek Trailhead (WK7) to Seven Mile Bridge trailhead (WK8). This includes the Cougar Creek trail.
The National Weather Service has issued a red flag warning for Yellowstone National Park and the surrounding area beginning at noon today. Strong, gusty SW winds (25-30 mph) are anticipated, coupled with lower humidity (8-13%) and warmer temperatures (79-84) will likely increase fire activity and behavior, especially on the east and northeast edges of the Maple fire. The same weather will influence the Buffalo and Fawn fires, and both will show increased smoke and fire activity.