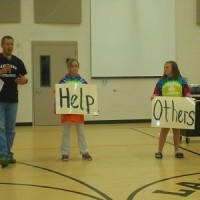 Press Release – On Thursday, October 27th Principal Dale Petersen led his school's Olweus Anti-Bulling Kick Off at 6:30 p.m. at Lakeview Elementary. Mr. Petersen had his student council members lead cheers to get the crowd revved up and excited about the Olweus program. Students cheered, "Don't Bully! Help Others! Include All! Speak Up!" as student council members held up a sign for each one.
Mr. Petersen talked with the audience about the Oleweus program and its success. Lakeview Elementary was recently surveyed and since the start of the program has seen a reduction of bullying by 40% as reported by the student survey. The school district has lowered its bullying by 23%. The Olweus program has four components which are implemented with fidelity by staff and students. They are: We will not bully. We will try to help students who are bullied. We will try to include students that are left out. If we know someone who is being bullied, we will tell an adult at home or at school.
Then, Mr. Petersen talked about some of the national statistics on bullying. He said, "One out of every four students (22%) report being bullied during the school day. 64% of children who were bullied did not report it; only 35 percent report the bullying. More than half of bullying situations (57 percent) stop when a peer intervenes on behalf of the student being bullied." The Olweus program is specifically designed to address those issues for students so that students feel safe at their school.
Mr. Petersen then talked about a new problem that students are experiencing: Cyber bullying and how it affects students. Mr. Petersen said, "19.6% of high school students report being bullied at school in the past year. 14.8% reported being bullied online." Mr. Petersen encouraged his students at the kick off to "Speak up!" and let an adult in their life know if this is happening to them.
Mr. Travis Heitmann, a teacher at Lakeview Elementary, then spoke to the audience. He showed a video that was taped by the students about how bullying could affect other students. Mr. Heitmann is the Olweus coordinator for his school. Mr. Heitmann is responsible for training other teachers and staff in the program. The Lakeview program includes school level, classroom level, and individual components. The school is required to study how much bullying is being done at the school, the formation of a school-wide committee to address bullying with a prevention program, and a system for adults to provide supervision of the students to stop bullying. The classroom teachers teach the students what bullying is and what it is not and then enforce the rules against bullying. The teachers lead discussions with the students about bullying and have activities for the students to teach them what bullying is. The Olweus program also has active parental involvement. The student component requires them to intervene when they see a student being bullied and to speak to an adult if they should see another student being bullied.
The Olweus Kick Off ended at 7:10 p.m. and Mr. Petersen dismissed staff, parents, and students to the commons to enjoy refreshments and reading materials.