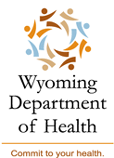 Press Release – Statistics over time point to a changing cancer reality in Wyoming and across the country due to improvements in prevention, screening and treatment, according to the Wyoming Department of Health (WDH).
"No doubt cancer remains a serious and sometimes fatal disease," said Joe Grandpre, Chronic Disease and Maternal Child Health Epidemiology Unit manager with WDH. "But with increased knowledge about prevention, more options for screening and advancements in treatment we are moving past the days when a cancer diagnosis was perceived as an automatic death sentence."
Grandpre noted a person diagnosed with cancer in America in 1980 had a 50 percent chance of surviving five years after diagnosis, while by 2012 that number had increased to 69 percent.
"We do see wide differences in survival rates depending on the type of cancer someone is found to have," Grandpre said. WDH maintains an extensive cancer registry through its Wyoming Cancer Surveillance Program, which Grandpre oversees.
In Wyoming, the cancers with the highest five-year survival rates in 2014 were prostate cancer at 98.3 percent, thyroid at 96.4 percent, melanoma at 93.2 percent and breast cancer at 89.1 percent.
Cancers with the lowest five-year Wyoming survival rates in 2014 were cancer of the pancreas at 8.1 percent, lung cancer at 15.3 percent, brain cancer at 27.8 percent and ovarian cancer at 45.5 percent.
For Wyoming children with cancer, the five-year survival rate is just over 83 percent.
"Wyoming's overall cancer incidence rate has fluctuated over time, but has seen a bit of a decrease in the last twenty or so years," Grandpre said.  "This is likely due to reduced smoking rates with tobacco use well established as a leading cancer risk factor."
"For people who do have cancer, finding the disease earlier can offer more opportunities for successful treatment. This is where improvements in screening options and awareness of its importance plays a role," Grandpre said. In 1980, 38 percent of all cancers were diagnosed at an early stage (in situ or local) while by 2014 more than 54 percent of all cancers were diagnosed at an early stage.
"The increase in early-stage diagnosis is especially dramatic for breast cancer," Grandpre said. In 1980 just over 49 percent of female breast cancers were diagnosed at an early stage; in 2014 the percentage was over 68 percent.
Dr. Wendy Braund, state health officer and Public Health Division senior administrator with WDH, encourages Wyoming residents to take steps to prevent cancer such as avoiding tobacco use and maintaining a healthy lifestyle. "It's also important to act on the screening advice medical professionals say is right for you," she said.
More information about cancer surveillance and risk factors in Wyoming is available online at https://health.wyo.gov/publichealth/chronic-disease-and-maternal-child-health-epidemiology-unit/.