Department Receives Life Saving Award
Written by broebling on March 9, 2017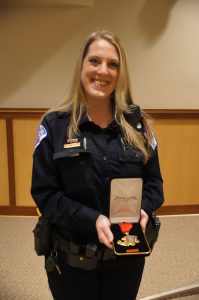 On January 18th, 2017 at approximately 9:00pm Officer Ryan Mussell was dispatched to an EMS assist where it was reported that a 48-year-old male was not breathing.
Officer Mussell arrived, along with Officer Kris Hunter, Officer Trevor Johnson and Officer Forest Rothleutner, in case additional assistance was needed.
As Officer Mussell assessed the male victim, he determined that the male was unresponsive, not breathing and he was unable to locate a pulse.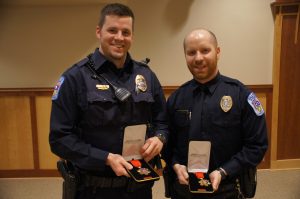 Officer Hunter immediately began giving chest compressions while Officer Mussell attempted to clear the male's airway. Officer Mussell determined that the victim had a blocked airway and took extraordinary measures to clear it.
Once the airway was cleared, EMS arrived and continued care as the victim regained a pulse and began breathing.
The male was transported to the hospital for further care and later recovered and was released.
Due to Officer Mussell and Officer Hunter's quick action, ability to appropriately assess the situation and implement needed life saving measures, I am proud to present them with the Department's Life Saving Award.
---