Gillette College Announces 2017 Excellence Award Winners
Written by broebling on January 22, 2018
Press Release – Northern Wyoming Community College District recently announced its 2017 Excellence Award Winners. Each year, NWCCD, which includes Sheridan College, Gillette College and Sheridan College in Johnson County, recognizes staff, volunteers, and students who have shown exemplary efforts in supporting the goals and overall mission of the district. This year's Gillette College winners include Chad Trebby and Miranda Miller.
Gillette College Campus Police Lieutenant Chad Trebby is this year's Classified Employee of the Year.
According to his nomination packet, "Chad is not only an exceptional employee, he is a fine human being…While he understands and performs his professional duties as a police officer very well, he also understands that he is an integral part of the broader education effort. Often times you will see him working with student groups, providing a guest lecture in class, or collaborating with colleagues on one of our many events."
Trebby is also NWCCD's nominee for the statewide Classified Employee of the Year Award, given by the Wyoming Association of Community College Trustees. One award winner is selected at the state level and will be recognized at the WACCT Conference on Feb. 21 in Cheyenne.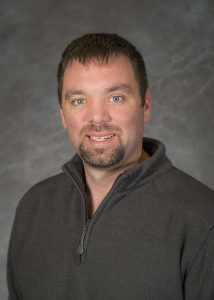 Miranda Miller, Gillette College English instructor, received the Faculty Member of the Year Award.
According to her nomination letter, Miller exemplifies teaching excellence with an approach that consists of an interactive lecture incorporating visual, aural, and social strategies to reach a broad variety of learning styles. She has been an instructor at Gillette College for 10 years.
"Miranda puts an extraordinary amount of time and effort in developing material that will not merely expand the horizons of our students, but will engage them in ways that force them to be much more critical and thoughtful participants of the communities in which they reside," her nominator explained.
Other winners include Mark Thoney, faculty; Brady Fackrell, professional; John D. Pearson, foundation; Robert Leibrech, trustee; and Rósborg Halldórsdóttir, student.
---