CHRIS STAPLETON PERFORMS "SAY SOMETHING" WITH JUSTIN TIMBERLAKE
Written by Basinradio on October 19, 2021
Country music phenomenon Chris Stapleton collaborated with Justin Timberlake's for his "Say Something" song and music video.
Justin Timberlake and Chris Stapleton have performed "Say Something" on various live occasions and collaborated on Justin's official music video for this song.  Fans attending Justin Timberlake's concert at Nashville's Bridgestone Arena got an extra special surprise when country star Chris Stapleton joined him onstage for a performance of their collaboration, "Say Something."    While Justin is mostly recognized as a Pop music singer, he has completed a variety of collaborations with Country Music artists.  Justin also married actress Jessica Biel on October 19, 2012 in Italy.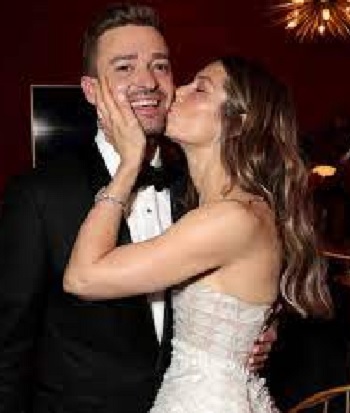 Watch the official music video for "Say Something" and see the written lyrics below!
Justin Timberlake Say Something Music Video Featuring Chris Stapleton
"Say Something" is featured on Timberlake's most recent album, Man of the Woods. The song was written and produced by Timberlake, Larrance Dopson, Floyd Nathaniel Hills, and Timbaland, with additional songwriting by Stapleton.
"Say Something" Lyrics
Oh, yeah, alright
Ooh (yeah)
Everyone knows all about my direction
And in my heart somewhere I wanna go there
Still I don't go there
Everybody says "say something"
Say something, say something
Then say something, say something, then say something
I don't wanna get caught up in the rhythm of it
But I can't help myself, no, I can't help myself, no, no
Caught up in the middle of it
No I can't help myself, no I can't help myself, no, no, no
Caught up in the rhythm of it
Maybe I'm looking something that I can't have (maybe I'm looking something that I can't have)
Maybe I'm looking something that I can't have
Everyone knows all about my transgressions
Still in my heart somewhere, there's melody and harmony
For you and me, tonight (whoa)
I hear them call my name
Everybody says "say something"
Then say something, say something
Then say something, say something then say something
I don't want to get caught up in the rhythm of it
But I can't get help myself, no I can't help myself, no, no
Caught up in the middle of it
No I can't help myself, no I can't help myself, no, no, no
Caught up in the rhythm of it
Maybe I'm looking something that I can't have (maybe I'm looking something that I can't have)
Maybe I'm looking something that I can't have (maybe I'm looking something that I can't have)
Maybe I'm looking something that I can't have (maybe I'm looking something that I can't have)
Maybe I'm looking something that I can't have (maybe I'm looking something that I can't have)
Sometimes the greatest the way to say something is to say nothing at all
Sometimes the greatest the way to say something is to say nothing at all
Sometimes the greatest the way to say something is to say nothing
But I can't help myself, no I can't help myself, no, no
Caught up in the middle of it
No I can't help myself, no I can't help myself, no, no, no
Caught up in the rhythm of it
Maybe I'm looking something that I can't have (maybe I'm looking something that I can't have)
Maybe I'm looking something that I can't have (maybe I'm looking something that I can't have)
Maybe I'm looking something that I can't have (maybe I'm looking something that I can't have)
Maybe I'm looking something that I can't have (maybe I'm looking something that I can't have)
Sometimes the greatest the way to say something is to say nothing at all
Sometimes the greatest the way to say something is to say nothing at all
Sometimes the greatest the way to say something is to say nothing
---